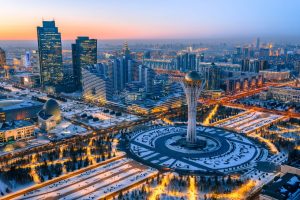 On November 11, 2022 a meeting was held with representatives of the business community of Astana to explain the measures of state support for exporters. Representatives of QazIndustry JSC also took part in the meeting.
Aiymgul Nurgaliyeva, Deputy Director of the Project Development Department, presented in detail QazTrade JSC's tools to support domestic exporters of non-commodity goods and services (reimbursement of part of export costs, export acceleration program, launching on international electronic platforms, service support measures, analytical support) and also answered all those of interest questions from the business community.
Capital companies actively cooperate with QazTrade and use support measures. This year, more than 30 companies became participants in the export acceleration program, 16 received the status of a «gold» supplier on the Alibaba marketplace, 8 participated in trade and economic missions and signed export contracts, and 16 exporters reimbursed part of their transportation costs, as well as the costs of promoting their products.