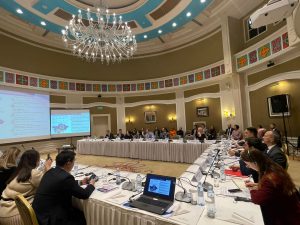 At the workshop held in Astana, OECD experts presented the interim results of the project on improving trade connectivity in Kazakhstan and Central Asia. The event was attended by representatives of government agencies and development institutions for export support and trade facilitation.
The research focuses on trade facilitation and export promotion. According to experts, even small accomplishments in facilitation of trade procedures can increase the probability of SMEs becoming exporters by up to 3% in countries of any level of development. Areas such as the automation of customs procedures can increase the export of SMEs by 4.4-6.5%.
Despite geopolitical changes over the past eight months and disruptions in traditional supply chains, trade ties within Central Asia remain strong. For 8 months of 2022, the trade turnover of Kazakhstan with Central Asian countries amounted to $4.8 billion, which is 26.8% higher than the turnover in the same period of the previous year.
The countries of the Central Asian region are characterized by three general trends. These are the strengthening of intra-regional trade, the facilitation of trade procedures, including transition to cross-border paperless trade, and the formation of a full-fledged export support ecosystem.
In their work, OECD experts assessed trade facilitation in the countries of Central Asia based on 11 indicators. Silvia Sorescu, Trade Policy Analyst, OECD Trade and Agriculture Division, noted that Kazakhstan's performance in many areas, such as transparency and predictability, automation of customs procedures, duties and fees, is above average and ahead of its neighbors in the region. Significant progress has been made in streamlining requirements for submission of the documents, enabling electronic filing, and establishing a one-window service in the sphere of trade. In addition, during the seminar, she voiced the key problems and promising areas to put efforts to optimize trade procedures.
The Ministry of Trade and Integration of the Republic of Kazakhstan is actively working to facilitate trade procedures and pays considerable attention to the development of trade cooperation with the countries of Central Asia.
Reference:
The second stage of the project is aimed at strengthening trade relations between the countries of Central Asia. The goal of the project is to provide six countries of Central Asia – Kazakhstan, Kyrgyzstan, Tajikistan, Turkmenistan, Uzbekistan, Afghanistan – with analytical and practical guidance on policies and tools that will allow them to take full advantage of the opportunities for enhanced trade connectivity and international integration. The project is being implemented by the OECD in cooperation with the Ministry of Trade and Integration of the Republic of Kazakhstan and QazTrade JSC. The duration of the project is 2 years.