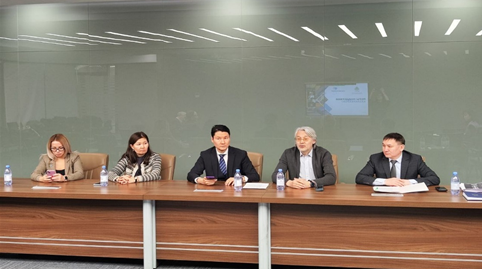 The Science Foundation together with Astana business campus LLP, Export Insurance Company KazakhExport JSC and QazTrade Trade Policy Development Center JSC organized a technology commercialization dialogue platform "State support measures for exporters".
The event was held on the basis of Astana business campus. The event was dedicated to the issues of exporting domestic products to foreign markets and state mechanisms of exporters' support. Almagul Mazhenova, Director of the Insurance Department of Export Insurance Company KazakhExport, told about the organization's activities and support of exporting companies of the manufacturing sector.  Aiymgul Nurgalieva, Deputy Director of Project Development Department of "QazTrade" JSC, presented the current tools of support for non-resource exports within the "single window".
Some technology commercialization projects, which have entered foreign markets and were financed by the Science Foundation, were also presented to the participants of the meeting.
Project manager Zhandos Kerimkulov told about the creation of the online platform "EGISTIC" for monitoring and management of crop areas using Earth remote sensing technologies and provision of services to foreign users.
Aset Durmagambetov, the project manager and representative of the Kazakhstani Association of Innovative Enterprises, shared his experience in exporting smart video cameras in standard and custom configurations.
Yevgeny Ermakov, Deputy Project Manager for Marketing of the RSE on REU "Institute of Nuclear Physics" of the Ministry of Energy of the Republic of Kazakhstan, told about the results of entering foreign markets under the project "Establishment of the technological site of production of radioisotope cobalt-57 in industrial volumes".
At the end of the event, representatives of the Science Foundation, Astana business campus, Export Insurance Company "KazakhExport" and the Center for Development of Trade Policy "QazTrade" agreed to develop cooperation and promote the entry into foreign markets of projects of commercialization of scientific and technological activities.